Healix Endomatic Microprocessor controlled Endomotor with Auto Reverse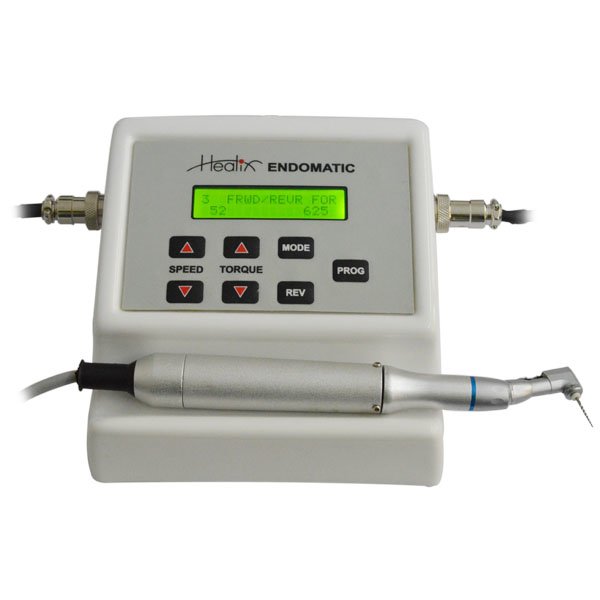 The
Healix ENDOMATIC
is a microprocessor controlled endodontic rotary system.
Healix ENDOMATIC
specifically designed to drive any rotary file systems including NiTI, Protapers, Heroshapers and others.
The
Healix
ENDOMATIC
is a simple, compact and lightweight unit, adapted to the needs of an endodontic practice. Any contra angle hand piece can be attached to
Healix Endomatic,
unlike traditional reduction gear hand pieces.
The ENDOMATIC is a simple, compact and lightweight unit, adapted to the needs of an endodontic and rotary practice. It is micro-processor controlled to provide Auto Reversal, Auto Stop or 1-Cycle reverse of the file rotation in case the file is stuck in the canal (as per torque setting). This minimizes file breakage. Also, efficient rotary endodontics reduces the treatment time and also improves patient comfort during root canal treatment.

Technical features
Speed:

125 rpm (min.) to 625 rpm (max.)<
Torque:

3 mNm (min.) to 52 mNm (max.)

3 Modes:

Auto Torque, Auto Reverse, One Cycle Reverse
10 Programs for setting Torque and Speed Values
Works with a standard :1:1 Contra Angle Hand piece (Standard Hand piece dentists use for polishing)
Comes with a foot switch/pedal to help operate easily and keep hands free for clinical use.
There is a clear LCD screen that provides easy visualization during preparation. It indicates the various settings that have been chosen by the operator: speed, torque, gearing, direction of rotation, program (ten in total), auto reverse setting and gives a real-time read out of the load being applied to the instrument in terms of mNm. There are also audible warning indicators for file reversal.